*Sample Restaurant & Catering Menus below. Specials & Desserts
Call or visit our Facebook Page for most current options.
                                                                                              Pricing Subject to Change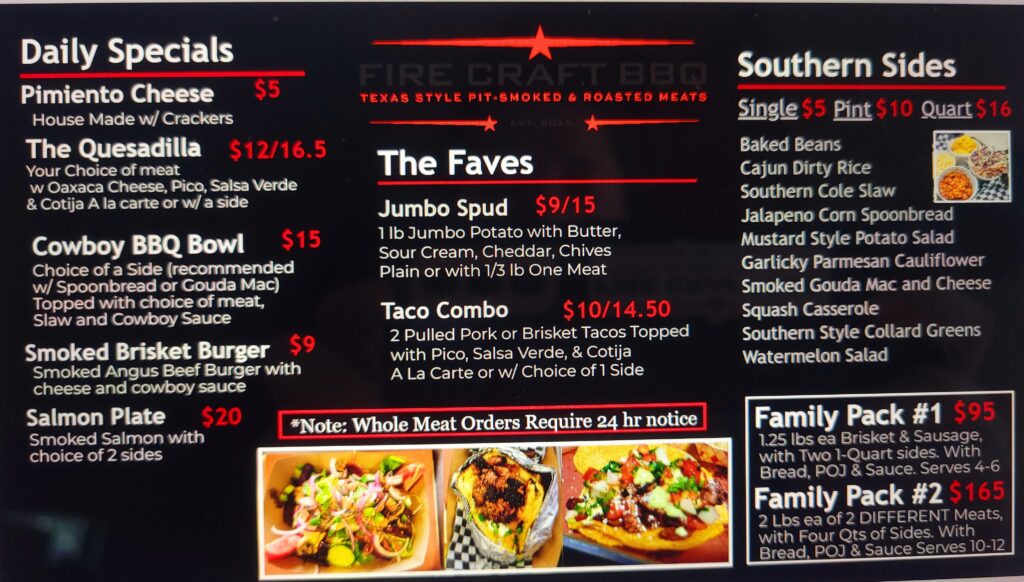 Sample Catering Options. Fill out the Contact Us form for a custom quote.


WHOLE SMOKED MEATS & SLICED BY THE POUND
Whole meats are picked up wrapped and whole off the pit. You can slice at home yourself, or we will slice it at pick-up if you wish.
Restaurant: $5-6 Single Serving, $16-$18 per Quart
Southern Style Sides - Daily Offerings Vary
Mustard style potato salad (Vegetarian-Friendly)
Southern Sweet Buttermilk Style
Pit-Smoked Southern Style with Brown Sugar
Latin Style with Fresh Pico de Gallo
Southern Style Harvester Beans with Bacon and Onion
STEWED CABBAGE/COLLARD GREENS
Stewed Cabbage with bacon and onions or Collards with smoked ham-hock pot liquor.  *48 hours notice for orders, please.
Triple Cut Fresh Corn, Cream Style or Buttered Sweet Corn
A classic, Creamy & Delicious with White Cheddar & French Gouda
Baked with Gar/icy Bechemel & Parmesan Cheese
Dessert Offerings Vary Daily
Peach & Cinnamon, Caramel Apple or Cherry Ginger
WHITE CHOCOLATE BREAD PUDDING
Scratch Made with Choice of Raspberry or Caramel Sauce
Traditional Scratch-Made with Vanilla Wafers and Fresh Bananas
APPETIZERS (CATERING ONLY)
French Brie Wheel with Rosemary Topped with  Sun Dried Fruit & Nut Chutney with Crostini
Prime Black Angus Brisket Sliders with Sauce & Garnishes (Upgrace to Prime Rib available) Forty eight 2 oz sliders per order
Fresh Smoked Salmon, Herbed Cream Cheese, Capers, Onion, Eggs Served with Crisps & Crackers
Mild & Spicy Sausage Varieties Served with Assorted Mustards & Crackers
Creamy Deviled Eggs Finished with Salmon Roe
Brisket, Roaste Jalapenos, Cream Cheese & Candied Bacon in a Warm Dip served with Tortilla Chips